Imran Hossain Piplu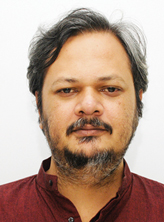 Imran Hossain Piplu was born in Dhaka in 1972, where he was trained at the Institute of Fine Art, University of Dhaka, receiving an MFA degree in 1998 in Sculpture.
Some of his participation in group exhibitions include the upcoming Parables: Pavilion of Bangladesh, 54th International Art Exhibition, La Biennale di Venezia ,2011; 14th Asian Art Biennale, Dhaka 2010 and Videozoom: Bangladesh, Sala 1 Rome, Italy, 2010; Britto New Media Festival, Bengal Gallery of Fine Arts , 2009 and 1mile² Dhaka, at Beauty Boarding in Old Dhaka ,2009; Off the Beaten Path, South Asian Artists' Exhibition, Bengal Gallery of Fine Arts, Dhaka,2008 organised by Britto Arts Trust; a group exhibition followed by a three-month long residency at Sacatar Foundation, Brazil ,2005; Residency outcome Show, Alliance Française de Dacca, Dhaka organised by Britto Arts Trust, 2005; Sculpture Exhibition, organised by Vashkar in Dhaka , 2005; Exhibition of Residency Programme at Taipei Artist Village, Taipei, Taiwan, 2004; Group Exhibition, Jindal Art Foundation, Karnataka, India, 2003; Young Artists from Bangladesh, Ibraki, Japan, 2002; Group Art Exhibition (Japan-Bangladesh), Chiju Art Gallery, Tokyo,2001 ; India-Bangladesh Art Exhibition, Gallery Alternative, Kolkata, 2000; National Art Exhibition organised by Bangladesh Shilpakala Academy, Dhaka between 1997-2000. Recently, he attended Theertha International Artists' Workshop, Colombo, Sri Lanka, 2010; Image Manipulation Workshop and Across the Street, Video Art Workshop by Britto Arts Trust, 2009; Britto International Artist's Workshop 2003, Tepantor Film City, Bhaluka, Bangladesh; Collaborative workshop at Dhaka, Bangladesh, Copenhagen, Orhus, Odense, Denmark, organized by Images of the World, Denmark; Hualien International Artists workshop, Taiwan in 2003. Stone Carving Workshop, organised by Jindal Art Foundation, Karnataka, India, 2002.
In 2003, Piplu received a fellowship by UNESCO/ Aschberg 2003-4 at Sacatar Foundation, Brazil.
His artist-in-residency programmes were held in Britto Arts Trust, Bangladesh; Sacatar Foundation, Brazil; Edinburgh Mela Limited, Scotland; Taipei Artists' Village in Taiwan and Jindal Vyjayanagar, Karnataka, India.
In 2001 and 2002, he was awarded respectively first and second prizes for his project at Cavalcade Parade in Edinburgh Festival, Edinburgh, Scotland.
He also received Best Award for Sculpture from Institute of fine art, University of Dhaka in 1997.
Piplu is a Founder -Trustee of Britto Arts Trust.
www.imranhossain.com ihossain13@gmail.com